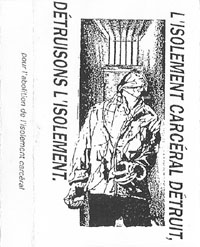 "Pour l'abolition de l'isolement carcéral"
Compilation K7 (Autoproduit) 1991
Rikki tikki tavi (USA)
D.D.T. "New song"
Portobello bones "How did they do this to you"
Desert culturel "Bombage camisole (live)" "Guerre à la guerre (live)"
Kracha foutra "Et l'homme (live)"
Blue blitz "Blue blitz"
Groggy holly "You say, you think"
Carre blanc pour serie noire "Gloire à Malcom"
Washington dead cats "Is that the law (live)"
Kochise "Pantxoa (live)"
N°6 "Les oiseaux chantent"
Rage dedans "Hue and mee" "Fugazi"
Feeble "Pouvoir illégitime"
Passwar et les bschrouwicks (Belgique)
Samizdat "Le politique"
Davy jones locker "White" "? (live)"
Gulag (Grèce)
Tears of a doll "Another noise"
Down by law "Engrenages"
Blighted area "Self destruct"
Putrid offal "Oscillococcinum"
Execution "Corruption"
Perfect kids "Les keufs (live)"
Gehen "Love to death (live)"