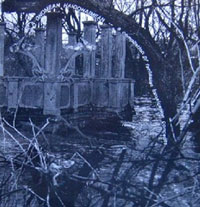 "A gnomean haigonaimean"
Compilation LP (Johnny blue - NOY 002, Portugal) 1991
Cranioclast (?) "Like a propeller running up"
Vox populi "Apapa lagos"
David Toop & Max Eastley (?) "Fe-tshun-ti-fe (burial rites)"
Arcane device (?) "Giant steps"
Osso exotico (?) "Babel cript"
Le syndicat (?) "Dissection fantaisie"
Brume "Ormuzd"
Un drame musical instantané "North eathing south starving"
Étant donnés "Cette rose qui tourne sans cesse au dessus de mon coeur"
P16.D4 (?) "(His second) night of fear"
Godfried-Willem raes (?) "Murphy"
Contrastate (?) "Through the lens of a mad eye"