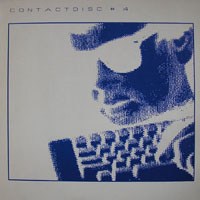 "Contactdisc # 4"
Compilation LP (Stichting stopcontact - CD 10, Hollande) 1986
Tranquil Eyes "In These Times"
Figurants "The Plan Was To Get Out"
Twilight Ritual "Lifestyle"
eM "Happy Birthday"
Frozen Ducks "Beginnings"
Panta Rhei "Language Of Love"
S.C.I. "Analytical Continuation"
Mystic In Eye Flight "Une Terrible Histoire D'Amour"
Kapotte Muziek "Fobo Fobie"
Vox populi! "Tibetan cowboy - Echre man"
De Fabriek "Aanbieding"
Bearcage "Words (NB28)"
X-ray pop "Polo polar"