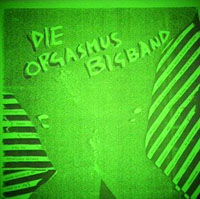 "Die orgasmus bigband"
Compilation LP (Priapismus - o.b.-001, Allemagne 350 exemplaires) 1985
Compilation LP (Priapismus - o.b.-001, Allemagne 200 exemplaires) 1988
Algebra Suicide (?) "Somewhat bleecker street"
X ray pop "Ejaculated guitar in a mousetrap's garden"
No unauthorized "Dialogue à l'usine"
Kristian Jonsson (?) "This is our latest orgasm but perhaps not our best"
Berserker (?) "X"
Ankles (?) "Disco ?"
Schlafengarten (?) "Blowjob"
Armin Hofmann (?) "Auf die schnelle"
Introverts (?) "Fuck fun"
Psychodrama (?) "It will be long and schizophrenic"
Philippe Laurent "Encore, encore"
Anomy (?) "Waiting at the station"
Vittore Baroni & Scarlatina Lust (?) "Orgasmo"
Ice 9 (?) "Tanzmuzik"
Steven Parker (?) "Keys and colleges"
HP2 (?) "Sounds so real you'll think you were there"
Smegma (?) "Dancing hairpiece wears two left shoes"
D.D.A.A. "Bruits pour un bon accouplement chez les éléphants"
Ono (?) "... Plays the sex show (excerpt)"
Algebra suicide (?) "In bed with boys"
An Bene & Ska Mazda (?) "Horizontal linguistics"
C.W. Bell & Cassie O'Tone (?) "The conquerers"
Viscera (?) "Expansion and extension"