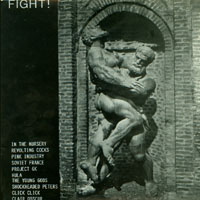 "Fight !"
Compilation LP (Cathexis recordings - CRL 14, Ecosse) 1987
Revolting cocks (?) "T.V. mind"
Pink industry (?) "The corpse"
Project Gk (?) "Amputate"
Shock headed Peters (?) "Thumbs of a murderer"
Clair obscur "The pilgrims progress"
Young gods (Suisse) "Irrtum boys"
Hula (?) "Bribery and winning ways"
Click click (?) "Qaf-harpy"
Zoviet France (?) "Le mur mur nu"
In the nursery (?) "Workcorps"
Tiokoala (?) "Dance of framin"