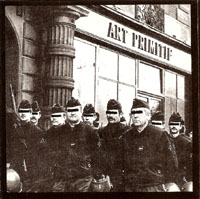 "L'art primitif"
Compilation CD (On a faim - OAF 014) 1993
BEN BARKA : Rien de plus rien de moins / Y'à pas de raisons
K.N.P.T. : Mauvais sang / Y'à t-il une vie ?
Panik "A force de rêver"
Tears Of A Doll "The white dawn" "Blind love"
STRAIGHT ROYEUR : We're at war
Power Wakan "Desert storm" "Made"
Krull "Some kind of addiction" "Progress"
Original Disease "Remaining teeth"
Raymonde Et Les Blancs Becs "Paris doit brûler (live)" "Footbollocks (live)"
Désert Culturel "Guerre à la guerre (live)"
Informers "A president for the dogs (live)"