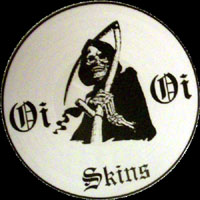 "No surrender ! Vol.2"
Compilation LP (Pirate - RRR 59, picture-disc, Allemagne) ?
Face A : Skrewdriver "Streetfight" "Friday Night"
Public Enemy "Strength Thru Oi" "Win Or Die"
Brutal Attack "We Are White Noise" "Slave To The Grave"
Face B : Böhse Onkelz "Ich Mag" "Hässlich"
Vortex "Bombenleger"
Brutal Combat "Du bon côté" "Aux armes"
Alliierten "Ruhm Und Ehre"