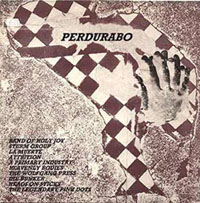 "Perdurabo"
Compilation LP (Cathexis recordings - CABLA 2, Angleterre) 1987
Heavenly bodies (?) "Shades of love"
Sturm group (?) "V"
Legendary pink dots (?) "My baby likes to hurt me"
Heads on sticks (?) "Coil"
Die Bunker "Die front"
Primary industry (?) "Watchword weal"
Band of holy joy (?) "A glorious morning in orton street"
Attrition (?) "Adam and Eva"
Wolfgang press (?) "Ecstacy"
La Muerte (Belge) "Blues, heaven or hell"