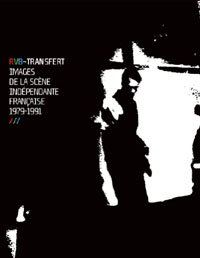 "RVB ~ Transfert"
Compilation DVD (Optical sound / Infrastition - FIN~OS-DVD.001 / Godsandbeasts) janvier 2006
DVD : Achwgha Ney Wodeï "Petit Paul"
Art & Technique "Radio City Deutschland"
Asylum Party "Misfortunes ?"
Babel 17 "Come Into Hell & Murder Hate"
Bernard Szajner "The Big Scare"
Clair Obscur "Statues"
Collection D'Arnell-Andrea "Anton's Death"
Complot Bronswick "Sparks"
Costes "Belle et cruelle"
Dazibao "Can Ya Ma Can"
DDAA "25 Pièces Sont Vides"
End Of Data "Sahrah"
Étant Donnés "Bleu"
Excès Nocturne "Cauchemards Blafards"
Geins't Naït "Marinetti"
In Aeternam Vale "Live Lyon Cosmic Café"
Jad Wio "Priscilla"
Kas Product "Never Come Back"
Kni Crik "O Mana"
La Nomenklatur "Meosta"
Le Syndicat "Un"
Lefdup & Lefdup "Noisy Neighbours"
Maîtres "Souvenir"
Tétines Noires "Freaks"
Little Nemo "New Flood"
Lucrate Milk "Nepla relou"
Marquis De Sade "Set In Motion Memories"
Martin Dupont "It's So"
Mary Goes Round "Mary's Garden"
Minamata "Niigata"
MKB Fraction Provisoire "Le chant des hyènes"
Neva "Psykodrame"
New Mixage "Badaboum"
Nini Raviolette "Suis-Je Normale ?"
Norma Loy "Black Jesus - We Want"
Nox "Crowd"
Opera Multi Steel "Un Froid Seul"
Pacific 231 "Live Broadcast Improvisation"
Palo Alto "Aux E.P.E. (Fatale Coïncidence)"
Passion Fodder "Blood Thicker Than Love"
Ptôse "Ecraser La Vermine"
Résistance "Across The Ocean"
Rosa Crux "Morituri"
Grief "Daedalus Part 6"
Un Département "Elisabeth Stresa"
Visible "A Fine Aim In Life"
Vox Populi! "On Fait Comme On A Dit"
X Ray Pop "Alcool"