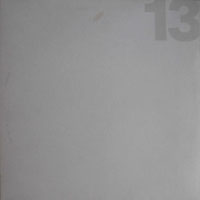 "13"
Compilation LP (Lively art - arty 13, pochette ouvrable avec insert) 1989
Compilation CD (Lively art - arty 13 / New rose) 1990
Teepee (?) "Tribes are meeting"
Asylum party "Love or madness"
Data-bank-a (?) "This place"
Sky cries mary (?) "Lover pot pie"
Numb (?) "Stiff"
Little Némo "City lights"
Mary goes round "The party"
Museum of devotion (?) "Quimbi come home"
Club de Rome (?) "Istante"
Collection d'Arnell Andrea "Anton's mind's getting blind"
Bonus CD : Anechoic chamber "The subject animal"
Circle confusion (?) "(In the) Name of Survival"
And also the trees "Wallpaper dying"