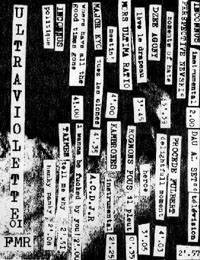 "Ultraviolette 01"
Compilation K7 live (F.M.R. - S/R) 1984
Face A : Inconnus "Instrumental"
Perspective Nevski "Moments of hate"
Dzee Agony "Lève le drapeau"
Mors Ultima Ratio "Meetin'"
Major Kyo "Tuez les clones" "Where have all the good times gone"
Inconnus "Politique"
Face B : Dau Al Set "Télévision"
Procede Fulbert "Delightfull moment" "Heroe"
Rognons Fous "Il pleut"
Kambrones "Instrumental"
A.C.D.J.R. "I wanna be fucked by you !"
Taxmen "Tell me why" "Hanky panky"
Scurs "Weary night the witch"
Gringos "Fever"