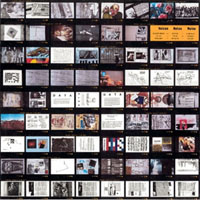 "Voices notes & noise"
Compilation LP (Recommended music - RM 01, vinyl translucide, Allemagne) 1984
Martin Bisi & Viki Galvez Bisi (?) "Battle hymn"
Un Département "120 défunts pour une patrie"
Veedtharm morgan fisher (?) "Easter parade"
Mixed band philanthropist (?) "Mixture/kitchen/theatre"
Let's have healthy children (?) "Dance up a storm..."
Victor Nubla (?) "Labertino"
Officer ! (?) "Boxer versus wrestlers"
Human flesh (?) "Another insanity"
Zazou & Bongo (?) "Tantine"
Ptôse "F.M. créatures"
Goebbels & Harth & Stötzner (?) "Und endlich stirbt die sehnsucht doch"
Hellebore "Gargamel chez les cosaques"
Doo dooettes (?) "The flying eyes part IV"
Lichtenstein lingery (?) "Elenka I"
Nurse with wound "It just aint so (not a cole porter song unsung by Ella)"
Madi-diddi (?) "Oil"
Debile menthol (?) "O.R. v/s Metronome"
Dissidents (?) "Schraubenzieher (hommage an Robert Wilson's 'the golden windows')"
Dressed Up Animals (?) "Ein walzer"
Lowest note on the organ (?) "999 (nein nein nein)"
Déficit des années antérieures "Vitesse"
Christoph Wünsch (?) "120 herzschläge"
Malcolm (?) "Like a nightingale"
Reinhold Brunner (?) "Liebe art bears"