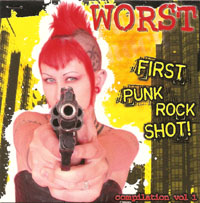 "Worst : first punk rock shot ! - vol.1"
Compilation CDm (Worsty - PROM01, offert avec fanzine Worst) 2007
Oi! Valcans (Japon) "Oi ! Many Punks & Skins Oi ! Boots Boys"
Overdose TV "Holidays In Spain"
Bollocks (Japon) "Make Your Own World"
Rux (Corée) – Addicted
Apaches "Skin ou keupon"
Marten's (Japon) "Thema of MARTEN"
Charge 69 "Vos Lois Ne Sont Pas Nos Regles"
Drei oklok "Cunéguonde"
Marten's – Rockin Oi !
Overdose TV – Toujours La !
Komptoir Chaos "Les Fauves"
Krays (USA) "One Stop"
Les Dérangés "Flashback"
Dick Spikie (Japon) "Gonna Be Coloress"
Drei oklok "Je retourne à l'école"
Krays, The – Gone
Attentat Sonore "No SS (de Kidnap)"
Tension "Pretentious Bastards"
Quartier Libre – Paradis Bar
Hors Contrôle – Connerie
Dick Spikie "Old Man & Martese"
Quartier Libre – L'Amour En Poudre
Tension (Canada) "Revenge"