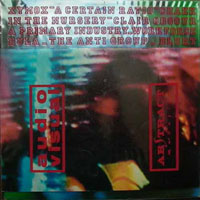 "Audio visual"
Compilation LP (Sweatbox - SAM 006, Angleterre) mai 1986
In the nursery (?) "Breach birth (blockade mix)"
Workforce (?) "Skin scraped back (remix)"
Xymox (?) "Moscoviet musquito (remix)"
Blurt (?) "Gravespit (live)"
Clair obscur "Smurf in the goulag"
A certain ratio (?) "Sounds like something dirty"
Anti group (?) "Ha (remix)"
Chakk (?) "Theme"
Hula (?) "Motor city nightmare"
A Primary industry (?) "They're biting"