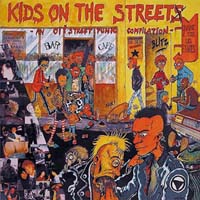 "Kids on the street"
Compilation LP (Bird records - BR 005, 1000 exemplaires) 1993
Blitz (?) "Warriors" "Never surrender" "Someones gonna die"
Beck's pistols (?) "Lust am Bösen"
Skinkorps "Rock sur la plaque de verglas"
Red alert (?) "Kill or be killed" "Across the lake"
Zakarrak (?) "Desenganö"
Straw dogs (?) "Keep in the faith alive"
Bruisers (?) "Independance day"
West side boys "Skinheads"
Klasse kriminale (ITA) "Birra donne ciminiere"
Anhrefn (?) "Weli di gymru (do you see wales ?)"